Chemeketa Receives Nearly $117,000 from PGE's Green Future Program for Photovoltaic Panels.
DateTuesday, September 28, 2021, 5:18
AuthorChemeketa Public Affairs
State-of-the-Art Agricultural Complex is now a Net Zero Energy Building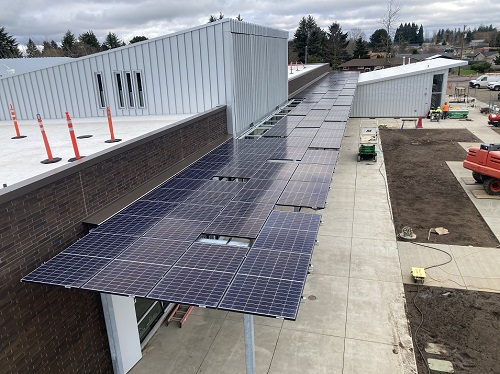 Chemeketa put the finishing touches on its state-of-the-art agricultural complex, also known as the Ag Hub. Though a public grand opening and ribbon-cutting ceremony was slated for mid-September, the college has postponed the celebration until large, public gatherings can be accommodated safely. However, the Ag Hub is now fully operational and students are enjoying its many features, including energy supplied by photovoltaic panels which effectively make the Ag Hub a Net Zero building.
The goal of the Net Zero Agricultural Complex project was to transform the 14,500 square foot Academic Building within Chemeketa's Agricultural Complex into a Net Zero Energy building. Installing photovoltaic panels within Chemeketa's Ag Hub supports the college's promise to the community to act "with personal and institutional accountability for the responsible use of environmental, financial, and human resources" (Chemeketa Strategic Plan, 2019-20). Adding photovoltaic panels to the Ag Hub marks a significant milestone toward Chemeketa's goal of achieving net climate neutrality.
The solar panels were installed and functional during the summer of this year. The total annual production of the photovoltaic system is 105.6 MWh/YR. The college will pay for power during the winter months as solar energy production is lower than the building's consumption. However, the solar array will produce more power than the building uses during the summer months which will be credited back to the college making energy costs nearly zero for this building. With this grant awarded and the installation now complete, the Ag Hub is the college's first Net Zero structure.
President Jessica Howard expressed her thanks to Portland General Electric's Green Future? program and Renewable Development Fund stating, "We are very excited for what this will mean for our state-of-the-art, net-zero Agricultural Complex, for our students, and for our community.
"PGE is honored to support Chemeketa Community College's path to Net Zero with this impressive new solar array. Our Green Future customers, some of which are students at the Agricultural Complex, should be proud of what can be accomplished when we all work together!" said Dan Janosec, Grants Manager.
This project has been made possible by customers participating in PGE's Green Future? program through the PGE Renewable Development Fund. For more information about the Renewable Development Fund, please visit portlandgeneral.com/rdf
All news