New State Board of Agriculture Member Fondly Remembers Chemeketa Wine Studies
DateTuesday, March 29, 2022, 2:11
AuthorTaylor Cantonwine, Chemeketa Community College
The Wine Studies program balanced science and hands-on learning.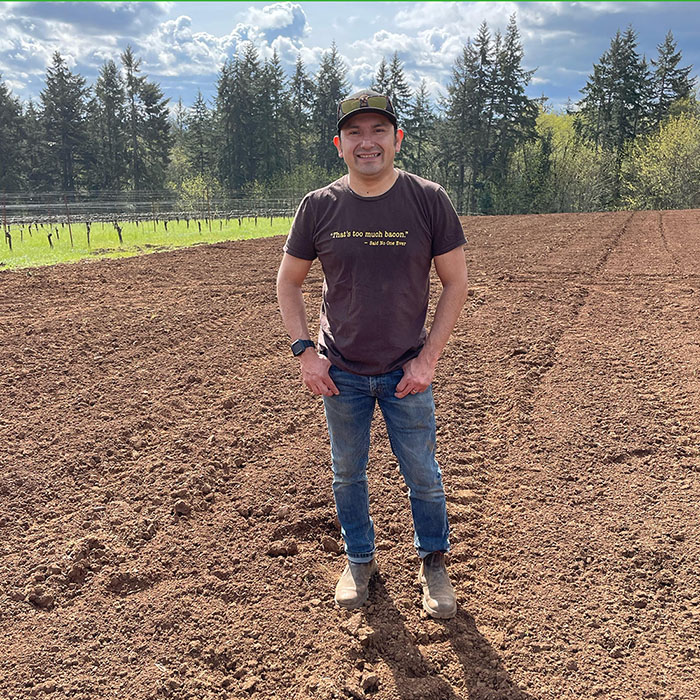 Miguel Lopez, a graduate of Chemeketa's Eola Northwest Viticulture Center, has been appointed to the Oregon State Board of Agriculture by Governor Kate Brown. An Oregon native, Lopez has deep roots in agriculture and the wine industry. He worked on farms and is the child of farmworkers.
After graduating from McMinnville High School in 2003, Lopez contemplated joining the Marine Corps with his friends. Before going to the recruiter's office, he stopped at a winery to catch up with the winemaker, a friend who Miguel knew from the farming industry. "He invited me to stay and work through the harvest season. I decided if after the harvest season I still wanted to join the Marine Corps, I would," says Lopez. Working at the vineyard was an opportunity that would change Lopez's life. During the harvest, he started to connect the dots from vine farming to winemaking. He quickly realized his desire for a career in the wine industry.
Lopez had struggled in high school and wasn't sure he could join a wine program at a university. After doing his research, he discovered that Chemeketa Community College was putting the finishing touches on their brand new Northwest Wine Studies Center and they'd be offering a two-year associate degree in winemaking and vineyard management. He made another life-changing decision and joined the program. Like many students starting higher education, he was nervous. The nerves settled once he realized that like him, everyone attending Chemeketa was there to advance their career goals through formal education.
"The Wine Studies program balanced science and hands-on learning. For students like me, who worked in the field and went to school, we were able to practice what we learned in the program almost immediately at work," recalls Lopez. By the time graduation came, he had a well-rounded education in fermentation science, barrel maturation, sanitation and safety, tasting and blending procedures, and business and marketing.
Now, with many years working in the industry, he has established strong relationships with vineyard and winery owners that he networks with at industry events and meetings. Recently, several colleagues approached him to see if he had an interest in applying for the Oregon Board of Agriculture.
"It's a state-wide position with the responsibility to represent yourself, industry cohorts, and others from different agriculture sectors," Lopez explained. He was appointed to the board in late 2021 by Governor Kate Brown and was excited to accept the new role. He will serve a four-year term with an option to re-apply for a second term.
Operating out of the northern Willamette Valley, Lopez owns and runs Red Dirt Vineyard Management and Winemaking Company. He hopes to expand his vineyards by adding more acreage and staffing. He also hopes to continue to help educate employees with coursework offered through Chemeketa and the non-profit AHIVOY, which he helped to launch. AHIVOY creates opportunities and empowers Latinx and Hispanic vineyard workers in the Willamette Valley. "I hope by serving on the board, I inspire others to get involved and become advocates themselves," says Lopez.
All news