Chemeketa Polk Center is temporarily closed to face to face classes. All classes will take place in an online/remote format through Fall Term 2020.
Further your education in Polk County at the Chemeketa Polk Center. For current course offerings see Class Schedule below. Don't forget to follow us on Facebook and Instagram to keep up on current events.
Chemeketa Polk Center is Your Local College
The Chemeketa Polk Center offers a small supportive setting to further your education in Polk County.
Transfer degree and lower division credit courses –
College preparation
Developmental education
GED preparation in English
Homeschool College Transition (HCT) program - HCT Fillable Application
Student services offered at Chemeketa Polk include –
Placement testing - see Placement Assessment to fill out and submit a form to set up your placement testing
Getting started information, new student advising & academic advising - use https://advisingpolk.youcanbook.me/ to make a phone or Zoom appointment with our advisor
Counseling services - see Counseling Services to make a phone or Zoom appointment with a counselor
Accessibility services - see Student Accessibility Services to contact an accessibility specialist
GED classes - email or call contact 503.316.3242 for additional information
GED and PearsonVUE testing services are available to be scheduled at the Polk Center through those sites - visit GED.com or pearsonvue.com
Student proctored testing services are suspended until further notice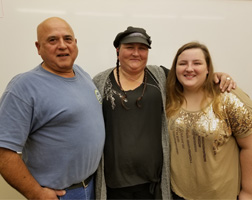 Or the family is all in college
Three generations of Dallas' Aguinaga family are sharing an adventure in higher education.